This is the documentation for the Joomla 3 version of Add to Menu.
There is no Joomla 4 version of Add to Menu.
Add to Menu is a Joomla! administrator module that provides a handy link to quickly add a menu item for the article or page that you are viewing in your Joomla! administrator panel.
For example, if you need to create a new article and add a link to that article in your menu, with Add to Menu this is done easily and quickly:
Create the article and save it
Now, while still on the article edit page, click on the 'Add to Menu' button
Select the menu you want the new menu item to be in
Click 'Save'
And voila! You are done.
Without Add to Menu, this same process in Joomla otherwise takes a lot of steps. It would require to:
Create the article
Save and close the article
Navigate to the Menu Manager
Create a new menu item under the correct menu
Add the menu title
Select the correct page type
Find and select the correct article
Save the menu item
Here is an example of the Add to Menu window for a standard article: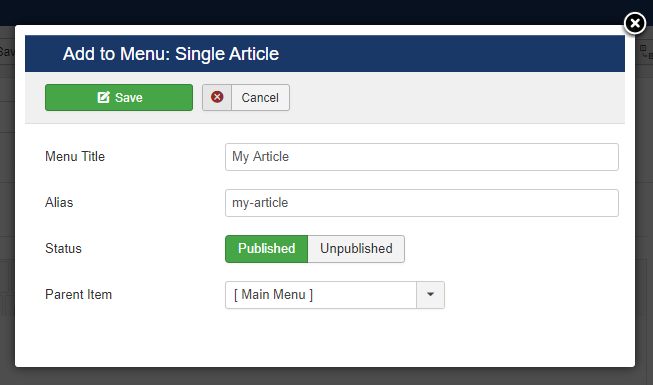 The 'Add to Menu' button will show up on the components supported by Add to Menu. This includes all core components such as articles, categories, contacts, and more. The Pro version of 'Add to Menu' also has support for several 3rd party components.