In the toolbar, on the right, you will see the "Options" button.

When you click on that, you will be directed to the Global Configuration options for Advanced Template Manager.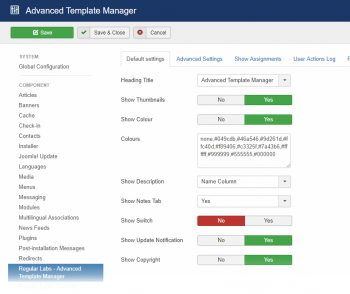 Here is an overview of the available options. All descriptions are available in the tooltips of the options.
| | |
| --- | --- |
| Heading Title | Select whether to show the core or Advanced Template Manager title in the heading. |
| Show Thumbnails | Select to show Thumbnails in the list views. |
| Show Colour | Enable to show the colour column in the template style list. |
| Colours | A comma separated list of RGB colours to show in the colour picker. |
| Show Description | Select where to show the optional short description in the template style list view. |
| Show Notes Tab | Select to show an extra notes tab. |
| Show Switch | Select to show the link to switch to the Joomla core template manager (and back). |
| Show Update Notification | If selected, an update notification will be shown in the main component view when there is a new version for this extension. |
| Show Copyright | If selected, extra copyright info will be displayed in the admin views. Regular Labs extensions never show copyright info or backlinks on the frontend. |
This tab gives you the ability to disable any assignment options for the template style edit screen.
We advise you to switch off the assignments you don't plan to use, in order to keep the available assignment options in the template style edit screens to only the ones you need, improving clarity and page load speed.
| | |
| --- | --- |
| Log User Actions | Select to store User Actions. These actions will be visible in the User Actions Log module. |
| Events To Log | Select the actions to include in the User Actions Log. |
Advanced Template Manager uses the core Template Manager permission rules.
The Joomla permission settings control access to the different actions for each user group. For more information on how these permissions work, see the Joomla docs: Access Control List Tutorial: Component Options & Permissions